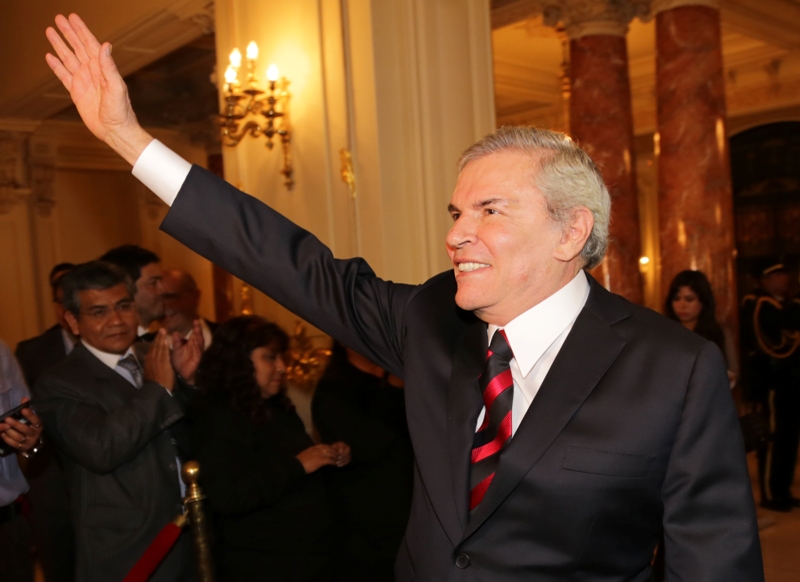 Luis Castañeda is the current mayor of Lima and former presidential candidate. He is serving his third term as mayor, having already served two terms from 2003 to 2010.
See the latest news for Luis Castañeda.
Castañeda was born in Chiclayo on June 21, 1945 as one of nine brothers and sisters. His father, Carlos Castañeda, would later serve as mayor of Chiclayo in the 1950s and 1960s.
Luis Castañeda earned a degree in law from the Pontifical Catholic University in 1970. He earned a master's from the Center of High Military Studies, and continued postgraduate studies in Sweden and Mexico.
In 1981, Castañeda was elected counselor of Lima's city government. As counselor, Castañeda developed the plan to close a swelling street market behind the Government Palace. The street vendors were successfully relocated to Polvos Azules in La Victoria, and the old space has been converted into Alameda Chabuca Granda.
From 1990 to 1996, Castañeda served as president of Peru's public healthcare organization, now known as EsSalud. In 2000, he founded the National Solidarity Party and ran for President of Peru, but did not qualify for the run-off.
In 2002, Castañeda defeated incumbent Alberto Andrade to become mayor of Lima. He was re-elected to a second term in 2006.
During his first two terms, Castañeda built 20 small hospitals throughout the city. He also built public staircases into the sides of area mountains to serve poor residents of shantytowns. His most notable achievement was starting construction and opening El Metropolitano, Lima's bus rapid transit system.
Castañeda has been criticized for using the name and color of his political party on public works. He named his healthcare centers "Solidarity Hospitals." The staircases serving the slums, "solidarity stairs," are painted yellow.
Castañeda resigned as mayor in 2010 in order to run for President of Peru. His presidential campaign was crippled by multiple scandals from his time as mayor.
Comunicore was a phantom company set up to receive a $12 million payment from the city. Over $5 million in cash was later withdrawn from the company account by 30 low-income individuals hired to appear at the bank and pass the money to third parties. 16 officials, including Castañeda, were indicted for embezzlement. A federal judge ultimately absolved Castañeda, the only one of 16 not to be tried.
Public records also revealed that Castañeda had overpaid himself as mayor from 2004 to 2006. In addition to the mayor's regular salary, he also received payment as the regional president of Lima. While the department of Lima does not pay a regional president, Castañeda was never charged.
Susana Villaran, the new mayor of Lima, released a report detailing incomplete and over-budget projects from Castañeda's administration. The city spent more than twice the projected cost for El Metropolitano.
Surrounded by negative publicity, Castañeda won less than 10 percent of the vote in the 2011 election, which saw Ollanta Humala defeat Keiko Fujimori.
In 2013, the Peruvian press released audio recordings showing that Castañeda played a key role in organizing the recall referendum against Susana Villaran, which he had previously denied. The recall failed.
In 2014, Castañeda was elected for a third term as mayor of Lima.