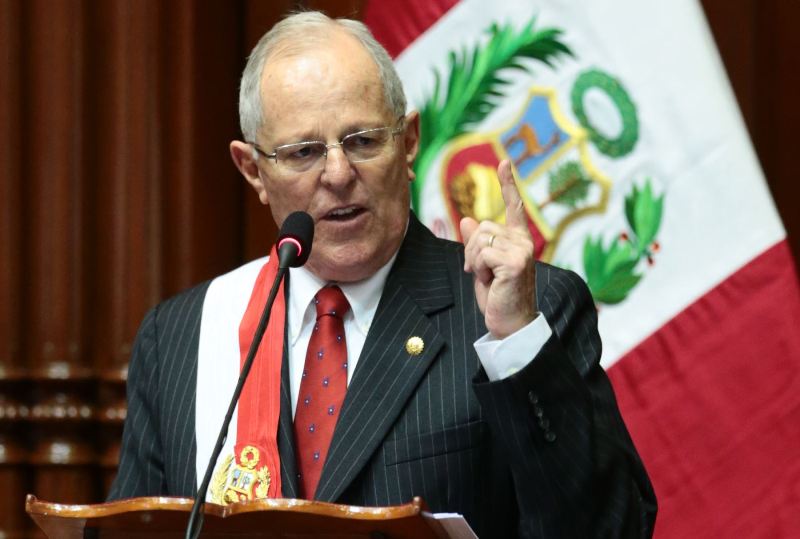 Pedro Pablo Kuczynski is the current president of Peru, as well as a former Cabinet minister, investment banker and economist.
See the latest news for Pedro Pablo Kuczynski.
Kuczynski was born in Lima to European immigrants. His Polish-German father, Maxime Hans Kuczynski, was an accomplished doctor noted for his research on health issues in the Amazon rainforest and Andean highlands. His French mother taught literature.
Kuczynski earned bachelor's degrees in politics and economics from Oxford University and a master's in economics from Princeton. Kuczynski went to work in economic research for the World Bank in 1961, where he gained expertise in mining and extractive industries on projects in Chile, Argentina, Haiti, Dominican Republic, Guatemala, El Salvador, Panama and Honduras.
Kuczynski left the World Bank to work at Peru's central bank, where he helped engineer a currency devaluation and debt restructuring as a consultant to President Fernando Belaunde. In 1968, populist military general Juan Velasco seized power in a coup d'etat. Kuczynski went into exile in the United States, where he returned to work for the World Bank on Latin American studies and mining projects.
In 1980, Kuczynski returned to Peru to join the second presidential campaign of Fernando Belaunde. Upon his election, Belaunde appointed Kuczynski as Minister of Energy and Mines. Kuczynski left Belaunde's government in 1982 and spent the rest of the 1980s and 1990s working in international banking and private equity.
Kuczynski returned to Peruvian politics in 2000 to work for the government of President Alejandro Toledo, a fellow World Bank economist educated at Stanford University. Kuczynski served as Toledo's finance minister and later as Cabinet chief. Toledo's government continued the privatizations of state companies started by Alberto Fujimori and laid the legal groundwork to begin exploitation of the Camisea gas fields.
Upon exiting government Kuczynski founded the NGO, Agua Limpia, which helps finance clean water systems and development projects in impoverished rural areas of Peru.
In 2010, Kuczynski announced his candidacy for president in the 2011 elections. He headed the Alliance for Great Change coalition, which consisted of the Popular Christian Party, Peruvian Humanist Party, National Restoration and Alliance for Progress parties. Despite leading the field of three centrist candidates, he garnered only 19% of the vote, putting him in third place and disqualifying him from the ensuing run-off election between Ollanta Humala and Keiko Fujimori.
Kuczynski defeated Fujimori in a runoff vote in 2016 elections by promising to overhaul the police force and judiciary, increase the minimum wage, reduce procedural steps in conducting formal business, implement tax breaks for small businesses and reduce the national sales tax from 18% to 15%.
Kuczynski is the cousin of French-Swiss filmmaker, Jean-Luc Godard, and the father of acclaimed New York Times columnist, Alex Kuczynski.