Each June in Cusco brings "el mes jubilar," or celebratory month, and this year it brought in a record swath of tourists to the region. The regional tourism director for Cusco estimated that 316,000 tourists – an estimated 252,000 (80 percent) of which were foreigners – came to the region for its annual celebrations throughout the month of June, according to Andina news agency.
According to the stats, four of every five visitors ended up visiting the famous Incan site of Machu Picchu, while others visited sites like Valle Sagrado de Los Incas, Valle Sur, and la Ruta del Norte.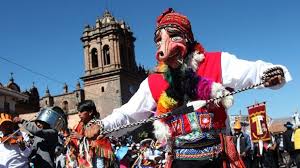 Tourism officials said this number of visitors to the area for the celebratory month represents as much as a 10 percent increase from the high in previous years. This was despite the fact that domestic tourism has dipped this year.
That's an astounding statistic considering the latest updated numbers from Peru's Tourism Minister show that 404,000 foreign tourists came through the country in March. So far from 2017 compared to the early stages of 2018, Peru has already seen a significant 22 percent increase in foreign arrivals to the entire country.
The June celebrations actually started May 27 and provide an homage to the capital of Cusco. Elaborate parades, local dances, and traditional music, among other activities, delighted the record crowds this year.
At the June 22nd Inti Raymi celebration, based off of Inca custom, some 50,000 people were in attendance for the staging of the once sacred ceremony that gave praise to the god Inti.
The festival officially closed with the annual "Kacharpari" celebration on July 8 that included a gastronomic fair, acts from musicians, and more dancing.