The coach of Peru's national soccer team has selected the players who will represent the country at the 2015 Copa America tournament in Chile.
The biggest surprise from coach Ricardo Gareca's 23 picks was the absence of Real Madrid midfielder Cristian Benavente. Gareca defended his decision by saying the third division of the Spanish league where Benavente plays is not competitive enough for the Copa America. Benavente was passed over for Alianza Lima midfielder Christian Cueva.
Aside from Benavente, the starting lineup features the rest of Peru's most accomplished players including Claudio Pizarro, Paolo Guerrero, Jefferson Farfan and Juan Manuel Vargas.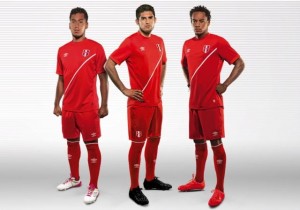 The Umbro sporting apparel company unveiled a new jersey for Peru's national team for 2015 and 2016. The new design a thinner stripe crossing from the left shoulder to the right hip.
Founded in 1916, the Copa America is the largest soccer tournament held among the national clubs of South America. The tournament features the 10 South American countries of Argentina, Bolivia, Brazil, Colombia, Chile, Ecuador, Paraguay, Peru, Uruguay and Venezuela plus two specially invited teams from North America, which this year will feature Mexico and Jamaica.
​ Peru's first game of the tournament against Brazil is scheduled for June 14 in Temuco.
The official roster:
Goalies:
Pedro Gallese
Diego Penny
Salomon Libman
Defenders:
Luis Advincula
Carlos Zambrano
Pedro Requena
Hansell Riojas
Christian Ramos
Yoshimar Yotun
Jair Cespedez
Midfielders:
Josepmir Ballon
Edwin Retamoso
Carlos Lobaton
Carlos Ascues
Joel Sanchez
Paolo Hurtado
Christian Cueva
Andre Carrillo
Juan Vargas
Jefferson Farfan
Forwards:
Yordy Reyna
Paolo Guerrero
Claudio Pizarro
Sources