Lima, Peru — Peru assumed the Pro-Tempore Presidency of the Pacific Alliance on August 1 following eight months of diplomatic tensions with Mexico's President Andrés Manuel López Obrador.
The Mexican president resisted passing control of the trade bloc to Peru because he disagreed with the country's removal of former President Pedro Castillo from office in December 2022.
The Pacific Alliance is composed of Latin American countries that border the Pacific Ocean, including Chile, Peru, Colombia, and Mexico. The bloc exists to promote the free movement of goods and capital between the countries and is ranked as the eighth largest export force worldwide, according to EY, representing 41% of Latin America's GDP.
On August 1, Peru's Foreign Minister Ana Cecilia Gervasi traveled to Chile where she was met by her counterpart in that country, Alberto Van Klaveren. From Mexico, the general director of Regional Integration Mechanisms of the Ministry of Foreign Affairs and national coordinator of Mexico, Efraín Guadarrama, was present.
The original change in leadership of the Pacific Alliance had been scheduled for December 2022, but was delayed following the impeachment of Castillo after he attempted to dissolve Congress on December 7, 2022. 
Read more: Mexico postpones Pacific Alliance summit due to "events" in Peru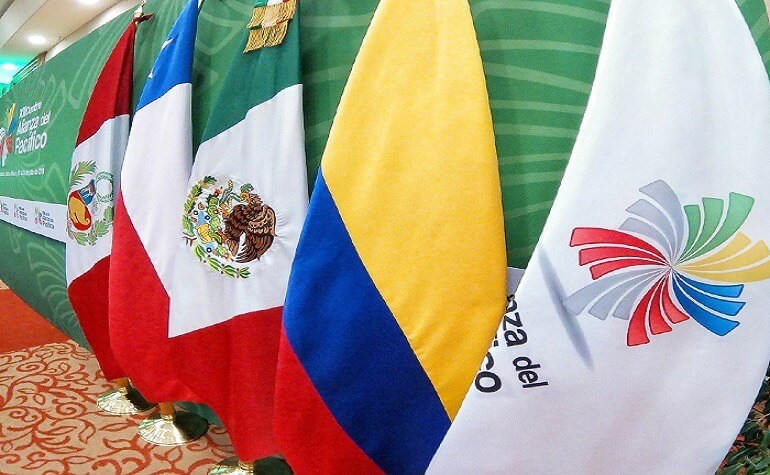 At the time, President López Obrador was expected to travel to Lima to lead the transfer, but due to Peru's political crisis and his belief that Castillo was unjustly removed from office, he refused to hand over the presidency to current President Dina Boluarte, who assumed office from her role as Vice President after Castillo's removal.
For months, López Obrador criticized Peru's actions toward Castillo and referred to Boluarte as a "usurper" of power.
Read more: Mexico's AMLO declared 'persona non grata' by Peruvian congressional commission
Despite his harsh rhetoric, López Obrador handed over control of the presidency of the Pacific Alliance to Chile on June 28, with the expectation that they would transfer power to Peru to lead the trading bloc. Peru will now remain in control of the presidency until the first fiscal quarter of 2024 as the leadership position is rotated annually based on the alphabetical order of its members.
In a press conference on August 1, Peruvian Foreign Minister Gervasi stated, "We are aware that our country takes on this responsibility in a challenging context for the Alliance. Regional economic growth is expected to be reduced, with citizens demanding improvements in the quality of life, amidst a difficult international environment."
Prime Minister Alberto Otárola wrote on his X account that, "We have the opportunity to revitalize and make the alliance a decisive player on the international stage. Let's work together to reclaim the Alliance's leadership for the benefit of four brotherly nations."