Lima, Peru — The Faculty of Arts and Humanities at the National University of San Marcos (UNMSM) developed Illariy, an artificial intelligence (AI) avatar that will teach TikTok micro-classes in Quechua, the native language of the Inca civilization and an official state language in Peru.
Google estimates that Quechua is used by around 10 million people across Argentina, Peru, Bolivia, Ecuador and surrounding countries.
Professor Carlos Fernández, Head of Communications and Image at UNMSM, and also the leader of the Illariy project, spoke with Peru Reports about why and how this innovative project was developed.
He explained that Illariy means "dawn" in Quechua and that his team –made up of Cynthia Ávila and Rolando Gutiérrez– considered this "project as a new journalistic dawn" and as a way to preserve the ancient, native language.
"The difference between Illariy and the other avatars created with AI is that she speaks Quechua. This avatar was developed with the purpose of preserving indigenous languages in the future," said Fernández.
According to the professor, an expert in emerging technologies and Augmented Reality applied to journalism, currently "there is no AI that can speak in an indigenous language."
"The idea of this initiative is to replicate it with languages that are about to disappear. The idea is that other people start telling stories like us," he said.
On March 29, the Faculty of Letters posted the first TikTok video featuring Illariy, who started out as an avatar that hosts the university's weekly news.
"I'm Illariy, AI newscaster, who joins the longest-running newscast in native languages at the Peruvian university. My goal will be to provide impartial and truthful information," said the avatar on TikTok.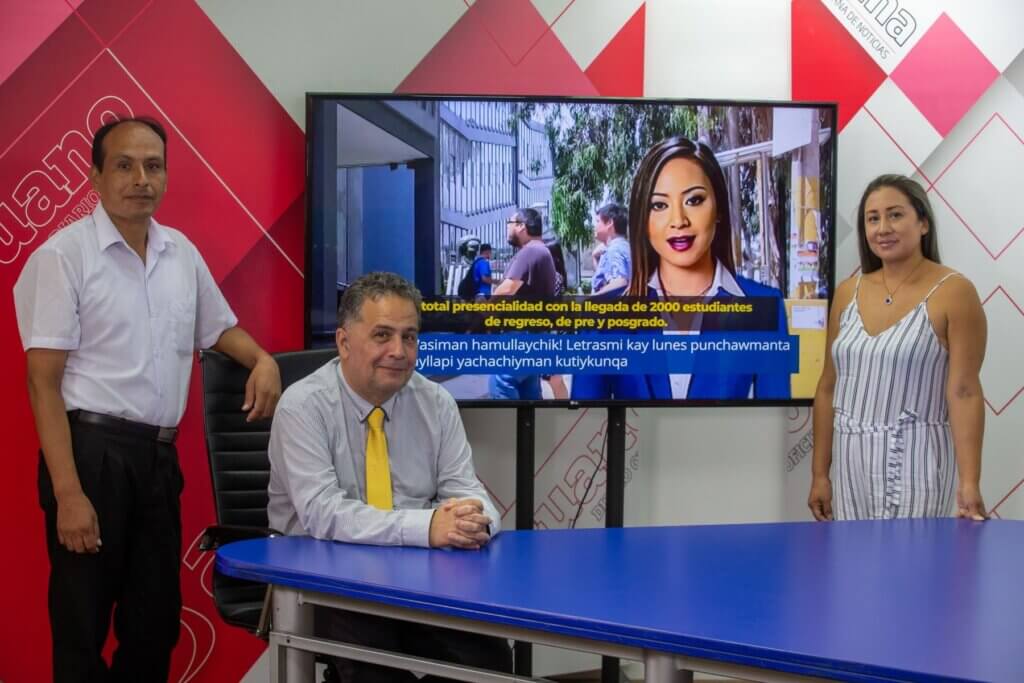 "We have a newscast in Quechua called Letras TV, created in April 2019 and which began its fifth season this year. So, we decided to include AI. Illariy was born that way," Fernández explained.
On May 22, Illariy started a new stage on TikTok as a Quechua language teacher. The new program called "Kuska Yachay" (Let's Learn Together) will become an educational space to share this language.
In her first class, Illariy explained the Quechua origin of some expressions that are used daily. She also listed some of the Quechua-inspired words that are linked to Peruvian food.
How was Illary created?
Professor Fernández told Peru Reports that his team started working with AI by watching tutorials on TikTok and reading scientific articles.
"Currently the university has 48 AI tools in its virtual classrooms and we have been studying for months before the creation of Illariy," he said.
The professor said that ChatGPT, the AI chatbot released last year by OpenAI, was not used for the project. Instead, the team used DALL-E, the AI digital image creator from the same parent company, to generate the avatar, and then other AIs like Midjourney and DI-D. The scripts are prepared by Professor Fernández himself.
"We worked for three weeks prior to the launch of Illariy, seeing that Quechua really sounded as it should, starting from the implementation of a 'phonetic template' and with the supervision of the distinguished professor Oscar Huamán Águila," said Fernández.
"In addition to artificial intelligence, we work with Photoshop, Illustrator, After Effects and Premier. AI is very important, but there is also a human component. AI doesn't solve everything," he added.
Illariy's micro-classes on TikTok will be posted every Friday and on Wednesdays she will continue reading news.
In the future, Fernández hopes that Illariy will function as a bot that can be asked questions and respond in Quechua. "It will work as a Quechua conversation course," he said.
"We did not think that Illariy would have the media impact that it did, but we always recognized that we had an interesting product, because we gave AI the opportunity to use an indigenous language for the first time," the professor concluded.